CMA
Certified Management Accountant
Conquer The World Of Accounting And Finance
1,40,000
CMA® Members Globally
The World of CMA
Certified Management Accountant (CMA) is the globally recognised highest credential in management accounting administered by the Institute for Management Accountants (IMA), USA. The US CMA Course is recognised across 170+ countries.
It is the most sought-after accounting and finance certification by companies and recruiters worldwide. The CMA course is an advanced-level credential appropriate for accountants and financial professionals.
The US CMA certification covers accounting, business, finance and analytics. It helps to master 12 core skills that are extensively required to lead the world of accounting and finance.
Our Students Work At
Ashutosh Sinha
Regulatory Reporting
Kartikishore Pradhan
A2 Associate - Fund Accounting
Abhay Pandere
Capital Market Operations Operator
Ankita Saini
Analytics - Risk & Compliances
Monisa Kamachi
Loan Processor
Kushalpal Singh
Associate - Fund Accounting
Pulkit Gupta
Business Analyst
Lead The World Of Accounting And Finance With Imarticus
Money Back Guarantee
We have complete faith in your abilities and the exceptional education we offer. We want to assure you that with our Money Back Guarantee if you are unable to pass all your CMA exams,we will refund you 50% of the course fee. Your success is our highest priority.
Top Placements
After becoming a CMA, learners can work with Fortune 500 companies and pursue global management and accounting careers. The students will also be prepared to work with the top brands in financial industry, accounting, consulting, and MNCs across multiple business domains.
Guaranteed Interviews
Our CMA program includes a comprehensive pre-placement boot camp, resume-building services, and interview preparation sessions. We provide soft skills training, placement assistance, and guaranteed interviews with top companies.
Unlimited Access To Study Materials
All students will have limitless access to CMA course books, a question bank, practice papers, MCQs, flashcards, learning videos, live classes, and revision tools. The study content is powered by Gleim which is world's no 1 CMA review course for over 40 years.
Expert Mentoring
Experienced Imarticus faculty with CMA, CA, CFA, and CPA qualifications provide personalised mentoring sessions to all learners. Exam-specific doubt-clearing sessions are also available to ensure that concepts are crystal clear and students pass the exams on the first attempt.
Basics to Practicals
CMA study at Imarticus begins with the fundamentals of accounting and then moves on to core CMA Curriculum. Besides this, students get additional learning on practical tools such as MS Excel, Advanced Excel, Financial Modelling, etc which not only prepares the learner for CMA exam better but makes them industry ready.
Master The 12 Skills As A CMA
Financial Statement Analysis
Financial Statement Analysis
Define Your Career With Certified Management Accountant Program
Get Top Placement Opportunities
CTC of 6.5 to 10 LPA For Freshers
Globally Recognised Certification
High Return On Investment
Sustainable Career Growth
Become A CMA In 6-8 Months
Easily Attainable With A Degree Or A Job-interviews
Our CMA Partners
*
Institute of Management Accountants, USA is the worldwide association of accountants and financial professionals.
*
Headquartered at New York, IMA has a global presence through 300+ chapters and 1,40,000 members across the world.
*
IMA USA is the certifying body for Certified Management Accountant (CMA) program offered globally by IMA USA.
*
Imarticus is an Approved Silver Learning Partner of IMA USA.
*
Gleim is rated an international content provider for CMA, CPA, CIA, EA courses in accounting & finance.
*
Learning content have been authored by Irvin N. Gleim, Ph.D., CIA, CMA, CFM, CPA, CFII, a professor Emeritus at the Fisher School of Accounting, University of Florida.
*
Gleim CMA course content is rated as world's top most CMA course review for over 45 years.
*
Imarticus is a premium training and content partner of Gleim, USA.
Learn From The Experts
Himanshu Sharma
B.COM, CMA USA , CIMA UK, CIA, CFA L1 , 3rd Rank Holder in CIMA UK , Vice President of Del
...See More
Samarth Bhatia
B.COM, M.COM, CA-India, CMA-India, CMA USA , CPA USA ,A decade of experience as a Faculty
...See More
Ajay Yadav
B.E., MBA- Indian Institute of Management Kozhikode, CMA USA , 17+ yrs of experience in Ma
...See More
Komal Alamadi
B.COM , CA- India , CMA USA , 11+ yrs of experience in Management Accounting & Finance , P
...See More
Dr. Manoj Kumar Pandey
Ph.D, FCA, FCMA, FIII, FCS, FCCA, FAIA, CPFA (UK), CFA, CFE, CMA (USA), DISA, DIRM, DITL,
...See More
CMA Exam Structure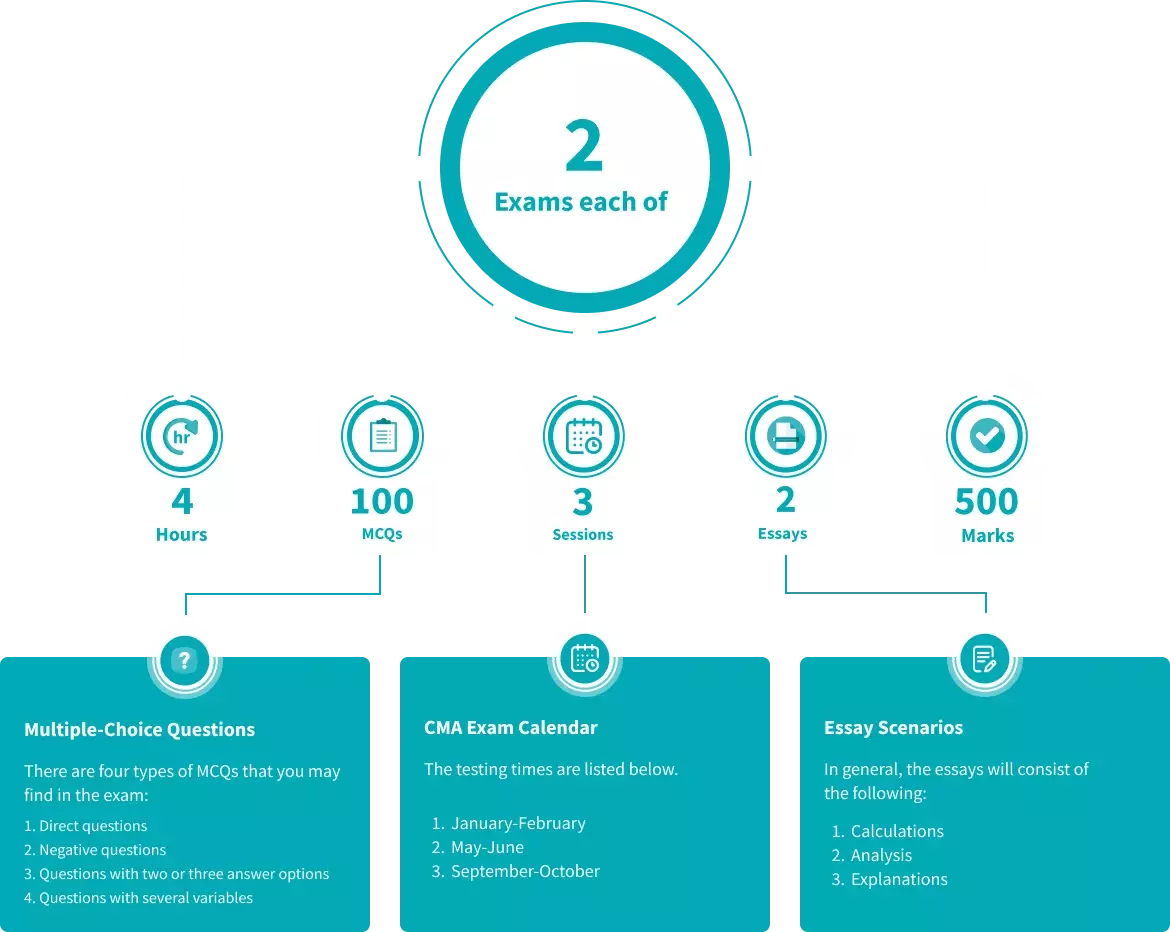 Trusted By Millions Of Learners Around The World
CMA Curriculum
CMA USA - PART 1
This module of the CMA USA course teaches the students about the financial conditions of a business and the prediction of its future financial condition. This module has a blend of basic accounting principles, tax principles, financial summaries, statements, disclosures and financial reporting skills. Besides conceptual learning, this module also introduces how to analyse financial data and derive meaningful reports for the business. These are the traits students develop as a part of their learning of the module - External Financial Reporting Decisions as a part of CMA USA Course - Part 1.
An organisation without a budget is like you share your bank account but hold no control over the transactions. The budget decides the figures of profit present in the reports. Planning makes an organisation ready for the risks and dilutes its effects. This CMA USA course module allows learners to have the most practical business skill, planning and budgeting. Students get to learn budgeting concepts, methodologies, financial projections, cash flow projections and analysis of the business and then how to do strategic planning and allocate the resources available in the business.
The performances of each asset in an organisation are directly linked with the overall performance and profitability of the business. The performance management process helps stakeholders keep up with all the financial updates. The module covers cost and variance measures, performance measures, performance analysis of the business, profitability analysis, preparing a balance score card and designing the KPIs of any business. As a CMA professional, you master optimising any business's performance.
Cost is always the soul of every business, and no business plan can ever work without managing costs efficiently. The skills of CMAs always align with transactional data, managing costs and transactions, the movement of profits, and cost planning.The student learns the cost estimation per the records and controlling expenses by the plan. In addition, the course includes insights into costing systems, measurement techniques, cost behaviour, supply chain management, lean management techniques, ERP, value resource planning and a host of cost management concepts.
The skills taught in the CMA USA module on internal controls cover an extensive area of controls for any business. The student learns the plan for financial controls, cost controls, risk controls, compliance, audits, and governance that is crucial for any enterprise. Inspections have two branches that are external and internal. It is essential to take care of internal audits and controls so that business operations can be more efficient and productive. This module teaches you how to build the right internal controls and governance for the business.
The world is running after analytics because it adds value to the prediction. When we take out the report from the past and merge it with the risk, analytics come into action. As a result, today, businesses look for professionals not just with accounting expertise but also have skills in data analytics and using technology. A Certified Management Accountant (CMA) professional should be well-equipped with the practical implementation of analytics and how to leverage technology and data analytics to build the best accounting practices and systems for any industry or business.
CMA USA - PART 2
This module begins with the basics of financial statements, preparing financial statements, types of statements, analysing financial statements, ratio analysis etc. Once learners master the fundamentals of financial statements, the CMA course module takes them to the advanced concepts of revenue analysis, income measurement analysis, and variation analysis. While the students learn all these, they also practically understand the impact of factors such as inflation, changes in accounting standards, prices, foreign operations, earning quality, etc.
For every enterprise, it is essential to know the 'why' behind each financial report and analysis. This module teaches the students the 'why' factor of financial reports. Right from raising capital to valuation, financing options to cash management, managing accounts receivable and payables, mergers and acquisition, corporate restructuring, international finance, and managing transaction exposure, students master these concepts along with learning how to maintain the risk-reward balance in any business environment.
Every decision impacts an enterprise's volume, budget, and financial condition. There are various ways of analysing it, but a certified management accountant can present the best way of implementing any decision. Cost-Volume-Profit Analysis, Break-even analysis, marginal analysis and understanding opportunity costs are where the course begins. Then the learners also master the science of pricing, product pricing methodologies, product life cycle, understanding the elasticity of demand and, based on all these, how to make the right financial decisions for any business.
Risk is always an essential element of any organisation. Several financial risks can come across and bring the entire business down. In broader terms, there are three risks: market risks, credit risks, and financing risks. The CMA USA course teaches the skills of managing risks that could be helpful in practical scenarios in any business. The course brings a profound understanding of various risk management strategies used in practical work as a management accountant. Everything is taught, from identifying the risks to managing and mitigating the business risks.
There are several investments that an enterprise can make, and while any investment decisions are made, the company requires the finance professionals to present the information in a much simpler and more vivid format. The skill is critical to inculcate, which is why it is taught in this module. The time value of money to different concepts of financial maths and building investment plans are covered here. The return projections, analysing of investment decisions, tracking investments etc., are also imbibed in the student. The learners master this most necessary skill of investment planning for an enterprise.
All global certifications like CMA USA are respected as a mark of professional ethics. CMA professionals are not just any other accounting and finance professionals. Besides the specialised knowledge in management accounting, finance, and business that they develop in the course, they also learn the proper professional ethics and values that make them professionals of the highest standards. Students get to know the IMA's statement of ethical professional practice, followed globally by all certified management accountant professionals.
Learning Journey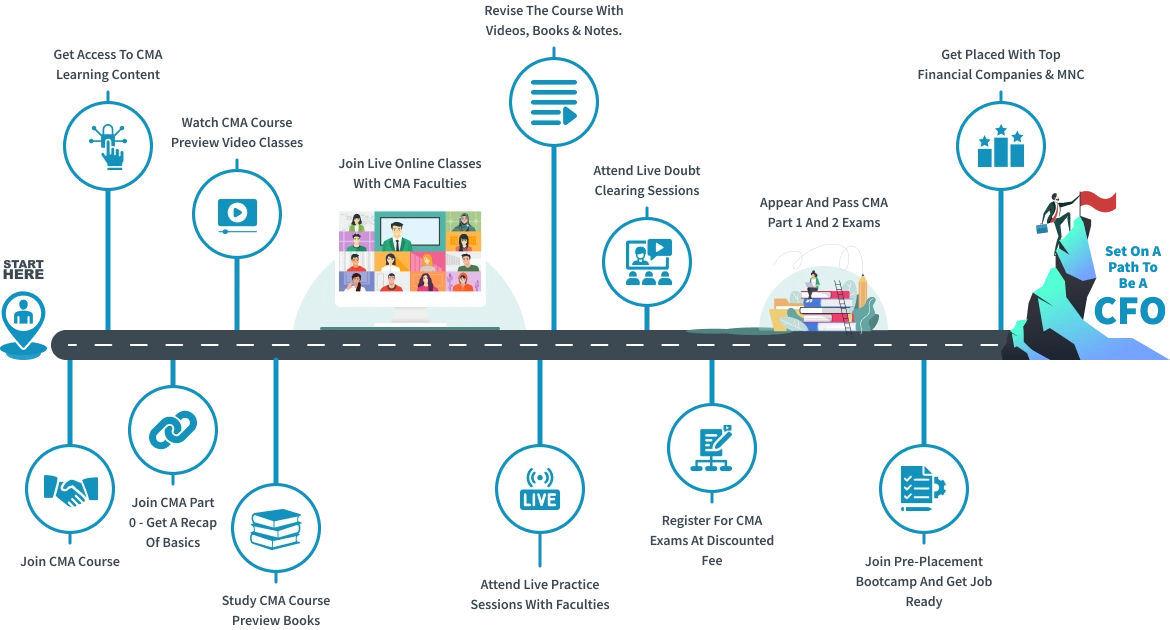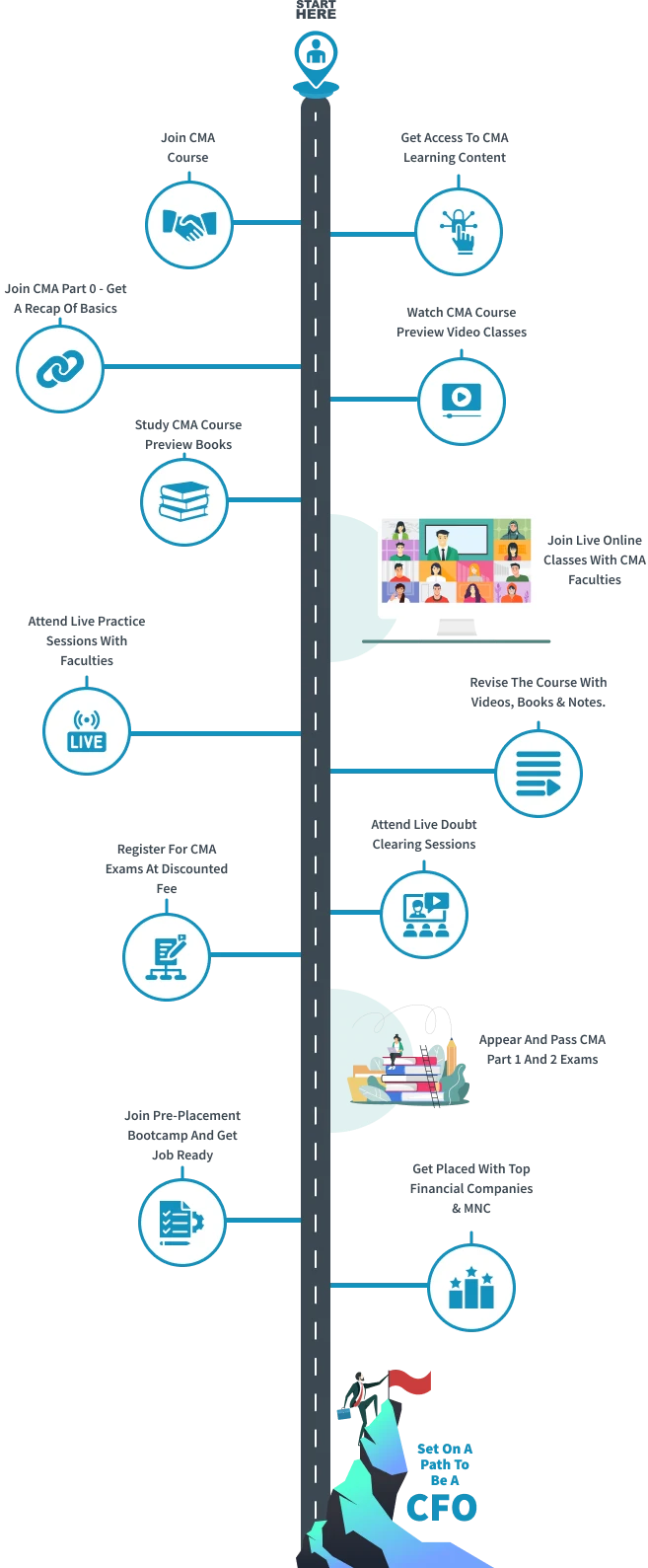 Career Opportunities After CMA
CMA-certified professionals have higher career growth, earning potential and high-profile job roles.
Management Accountant
Cost Accountant
Treasurer
FINANCE CONTROLLER
HEAD OF FINANCE
COST CONTROLLER
CHIEF INTERNAL AUDITOR
CERTIFIED MANAGEMENT ACCOUNTANT
See yourself in one of these role?
Sign Up
The Program Is Ideal For?
Commerce undergraduates, graduates, MBAs, and aspiring or qualified chartered accountants.
Minimum Eligibility Criteria
Graduation degree and work experience of 2 years can be completed anytime before or even after completion of CMA course within 7 years
₹ 10,000/- Admission Fee
Remaining fees in 6-10 zero cost easy EMIs.
Pay Now
Pass For Sure Or Else Get 50% Money Back
FAQs
About The Program
A certified Management Accountant (CMA) is a globally recognised professional certification credential in the management accounting and financial management fields. The certification signifies that the person possesses financial planning, analysis, control, decision support, and professional ethics knowledge.
In addition to successfully passing the exams, CMA candidates must fulfil education and experience requirements to be certified, and these are:
Bachelor's degree from an accredited college or university
Two continuous years of professional experience employing the principles of management accounting and financial management.
Attend classes regularly, use our learning management system (LMS), take MCQs, clear your doubts with the help of mentors, and take the final exam.
Each year, three exam testing windows are available: January and February, May and June, and September and October. Candidates can schedule exams at their leisure, and parts 1 and 2 can be taken in any order. Also, during the exam window months, tests are held on all working days except Saturdays and Sundays, and candidates must book their exams on a convenient date.
You certainly can. Along with your college studies, or even if you have already completed your graduation or MBA, CMA can be pursued.
Eligibility
The learner has to pass a minimum of 10+2.
Yes, you can. CMA can be pursued after graduation.
A student can always retake the exam as there are no restrictions on the number of attempts, but one must complete it within three years of registering with IMA.
Every year, IMA, USA administers US CMA exams in three testing windows in India and worldwide. The testing times are listed below.
January-February
May-June
September-October
Exams are taken online at Prometric Centers located throughout India. Students can book their preferred exam day and slot for any of the testing windows listed above.
An average student can finish CMA course study in 6-8 months.
Imarticus Learning is the only CMA Learning Partner offering pass protection to students. We have complete faith in your abilities and the exceptional education we offer. We want to assure you that with our Money Back Guarantee, if you are unable to pass all your CMA exams, we will refund you 50% of the course fee. Your success is our highest priority.
The pass protection terms and conditions are:
At least 80% attendance in live classes
100% on-demand video consumption
Completion of all mock tests or quizzes
At least two exam attempts
You will receive 100% placement assistance after obtaining the CMA certification from us. In addition, you will receive assistance in resume creation, profile enhancement, interview preparation workshops, and career-monitoring.
Imarticus learning's methodology is aligned to prepare you in the best possible manner, which is one of the reasons you are given the guarantee of pass protection as well. To prepare yourself well, you need to
Attend classes regularly and make the concepts clear.
Practise the entire question bank followed by course material.
Take mock exams.
Imarticus Learning is a silver category-approved learning partner of IMA, USA and is the most sought-after choice of learners.
Fees
There are 2 types of fees payable - One is the Course Study Fee which you pay to Imarticus Learning, and the Second is the IMA Board fees which you pay to the CMA Certifying Board, IMA USA directly. The fee you pay to Imarticus is INR, whereas the fees paid to IMA Board is in USD. Being a student of Imarticus learning, you also get a special discount on the IMA Board fees.
1,10,000 at that time of joining at Imarticus and Imarticus will refund 50% amount if the student does not pass the exam after 2 attempts.
Besides the CMA Course Study fee that learners pay to Imarticus, they have to pay membership, entrance and exam fees to the IMA board, and these fees are paid in US Dollars.
| USD ($) | Professionals Category | Students Category |
| --- | --- | --- |
| Application Fee One Time Fee , Only For Professional Category | 15 | |
| Membership Fee Fee With 1 Year Validity / Upto 3 Years Option | 260 | 135 |
| Entrance Fee Fee With 3 Years Validity | 280 | 210 |
| Total Initial Payment | 555 | 345 |
| Exam Fee - Part 1 Fee For One Time Exam Booking | 460 | 345 |
| Exam Fee - Part 2 Fee For One Time Exam Booking | 460 | 345 |
| Total Exam Payment | 920 | 690 |
| | 1475 | 1035 |
While learners who study with Imarticus get an exclusive discount on IMA fees through Imarticus, and they save approximately 30-40% on the IMA fees, as stated in the table above.
Yes, there is. Please talk to our counsellor for more details.
Know More